Automatically build your stock portofolio
Buy stocks of your favorite companies by rounding up your purchases.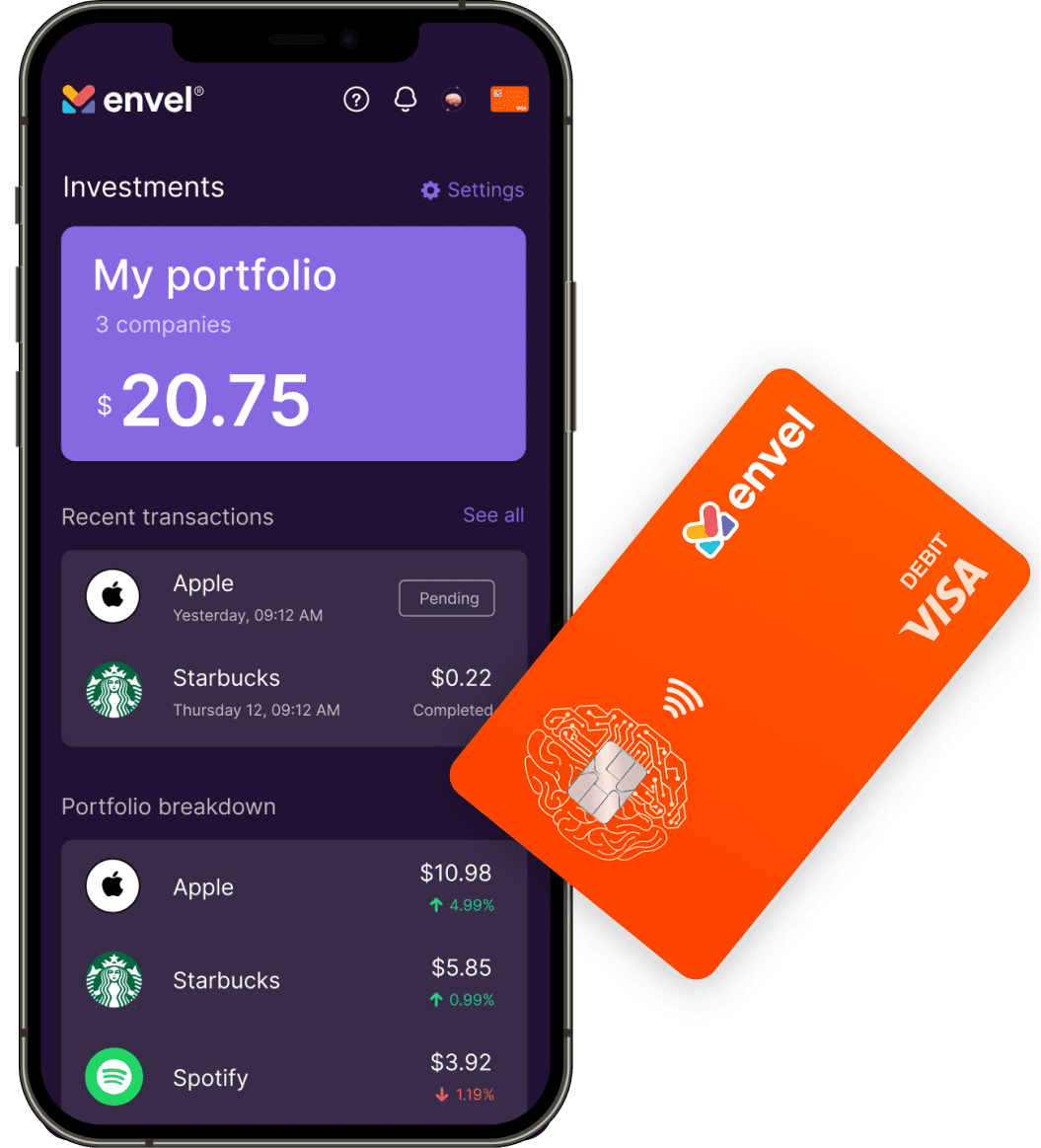 Start investing with Envel today!
ENABLE ROUND UPS
Every time you make a purchase, automatically buy stock in that company
WHY CHOOSE ENVEL?
Invest in your future, effortlessly
FREQUENTLY ASKED QUESTIONS
Our support team will guide you all the way
What is Envel Investments?
Envel Investments provides a fractional top-up strategy that invests in your favorite brands by rounding up your purchases to the nearest dollar to buy a fractional share of a stock or ETF. For example, you buy something for $4.50 at Starbucks, Envel will then round up your purchase to $5.00 and then buy you a fractional share in Starbucks for $.50 cents. If you buy something at a local, privately-owned business, we'll round up your purchase to a fractional share of an ETF. All of your shares are visible in your Envel app.
Is it safe to invest with Envel?
All of your shares are held in an account that you own and you have 100% control over.
What are fractional shares?
Fractional shares a portion of a publically traded company stock traded on the U.S. market. We, the Investment Advisor, are able to purchase a fraction of a company stock for you rather than purchase the entire share. It works exactly the same as full shares but allows you to invest at a lower level. Over time fractional shares will add up to full shares as you accumulate.
Our fractional round up strategy invests in common stock (i.e., "equities") and shares of an Exchange Traded Fund ("ETF") based on where you make purchases with your Envel debit card. Equities are the publicly traded stocks that companies issue, and ETFs are a "basket" of public stock from many different companies that are represented by shares of a single fund. If you make a purchase at one of 200 publicly traded companies, we'll invest in that stock. If you make a purchase at any other business, we'll round up your purchase to shares of an ETF.
Can I sell my fractional shares again?
You can sell your shares at any time! Your sell orders are submitted to DriveWealth, our licensed broker dealer, as live market orders and are processed by DriveWealth during U.S. market hours (9:30am - 4:00pm EST). We will deposit your proceeds once trades are completed and funds are returned to Envel within 1-2 business days of trade completion. We do this without fees or mark ups.
Yes, we charge monthly subcription fee that you can cancel at any time. But there are no trade fees or mark ups on shares that you buy or sell, unlike regular brokers.
Didn't find an answer to your question? Get in touch with us.